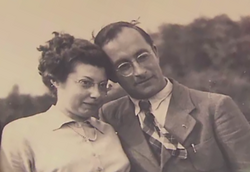 Anna Dierckx
was tot 1975 getrouwd met
Pierre Van den Bossche
. Samen hadden ze drie kinderen:
Guido Van Den Bossche
,
Jan Van den Bossche
en
Rita Van den Bossche
. Vlak voor zijn dood in 1975, werd Anna opnieuw zwanger van
Marleen Van den Bossche
. Pierre stierf aan leukemie. 
Jaren later ontdekte Anna dat Pierre haar bedrogen heeft toen hij naar Duitsland trok. De vrouw met wie hij een affaire had, werd zwanger en hun zoon kreeg op zijn beurt ook een zoon: Bert Van den Bossche. Anna bleef Pierre altijd graag zien na zijn dood, maar het nieuws van zijn vreemdgaan, raakte haar diep.
Trivia
Pierre Van den Bossche is nooit lijfelijk in de serie te zien geweest, omdat hij reeds gestorven was voor de eerste aflevering in 1991. Wanneer er foto's van Pierre getoond worden, gaat het steeds om de echte overleden man van actrice Annie Geeraerts (Anna Dierckx in de serie). 
Ad blocker interference detected!
Wikia is a free-to-use site that makes money from advertising. We have a modified experience for viewers using ad blockers

Wikia is not accessible if you've made further modifications. Remove the custom ad blocker rule(s) and the page will load as expected.