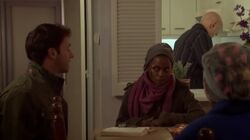 Het appartement van Anna en Albert is gelegen in Blankenbergen. Ze wonen er van 2011 tot 2013, nadat ze van Benidorm terug naar verhuisden om dichter bij de familie te kunnen zijn.
Na verloop van tijd begint Anna met haar gezondheid te sukkelen en trekken zij en Albert naar de villa van Marie-Rose, waarna het appartement verkocht wordt.
Vorige Bewoners
Ad blocker interference detected!
Wikia is a free-to-use site that makes money from advertising. We have a modified experience for viewers using ad blockers

Wikia is not accessible if you've made further modifications. Remove the custom ad blocker rule(s) and the page will load as expected.