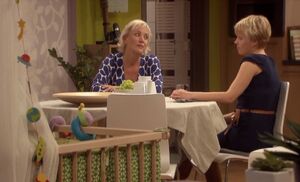 Dit is het appartement van Leen Van den Bossche en Arthur Van den Bossche. Dit appartement bevindt zich in dezelfde blok als het appartement van Rita Van den Bossche.
Leen komt hier wonen omdat Jan en Linda niet langer tegen het gehuil van Arthur tegen kunnen. Dankzij Rita vindt ze haar eigen stek.
Een paar maanden later verhuist ze naar een huis waar ze beneden haar praktijk kan maken en ze zelf boven kan wonen. Voor het huis van Leen, zie Huis van Leen
Eindbewoners
Vorige Bewoners
Ad blocker interference detected!
Wikia is a free-to-use site that makes money from advertising. We have a modified experience for viewers using ad blockers

Wikia is not accessible if you've made further modifications. Remove the custom ad blocker rule(s) and the page will load as expected.