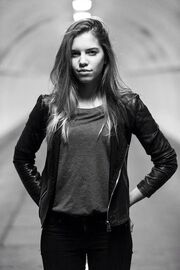 Bab Buelens
(Begijnendijk, 23 mei 1994) is een Belgische zangeres en actrice.
Muziek
Ze nam in 2007 deel aan de Belgische voorronde van het Junior Eurovisiesongfestival. Ze werd in de finale verslagen door de groep Trust. Haar liedje 'Laat me gerust' gaat over één van haar beste vriendinnen die haar vriendje stal. De naam van de jongen is verzonnen, maar al het overige is naar verluidt waargebeurd.
Sindsdien bracht ze al vijf singles uit. Bab was ook een van de kinderen in de documentaire Sounds like teen spirits - a popumentary, een documentaire over het Junior Eurovisiesongfestival in 2007. Ook deed Bab mee aan de eerste editie van Ketnetpop, waar ze onder meer de nummers 'Laat mij gerust' en 'Zo is er maar één' zong. Bab was de jongste zangeres die ooit op Vtm live stond.
Televisie
In 2010 begon ze ook te acteren en nam ze de rol van Sophie in de serie SKILZ voor haar rekening. Vanaf het najaar van 2014 is Bab een gloednieuw VTMKZOOM-gezicht. Ze presenteert nu samen met Femme Swinnen en Arne Vanhaecke vtmKzoom. Eind 2014 maakte Bab haar debuut in Familie als Emma Verdonck. 
Ad blocker interference detected!
Wikia is a free-to-use site that makes money from advertising. We have a modified experience for viewers using ad blockers

Wikia is not accessible if you've made further modifications. Remove the custom ad blocker rule(s) and the page will load as expected.