Algemene Informatie
Birgit Van den Sompel is een nevenpersonage dat van 31 december 1991 tot en met 1993 vertolkt wordt door Veerle De Jonghe. 
Verhaallijnen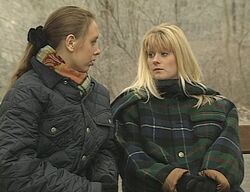 Birgit is de beste vriendin van
Veronique Van den Bossche
en behoort daarom bij de vriendengroep van haar en
Peter Van den Bossche
. Birgit is één van de eerste personen die Veronique in vertrouwen neemt over haar zwangerschap. Ze is de vaste vriendin van
Picasso
, maar dat weerhoudt de rebelse Peter er niet van om haar geregeld lastig te vallen. Wanneer ze wordt verkracht, is Peter dan ook de hoofdverdachte en hij wordt opgepakt door de politie.
Peter wordt al snel vrijgelaten omdat er geen bewijzen zijn, maar Birgit blijft hem ervan verdenken de dader te zijn. Enige tijd later wordt Birgit vermoord en komt Peter eens te meer in een slecht daglicht te staan. Uiteindelijk blijkt hij niets met de hele zaak te maken te hebben.
Trivia
Enkele jaren later, na de tijdsprong van 1997, speelt Veerle De Jonghe als Noortje Moortgat opnieuw een rol in Familie.
Ad blocker interference detected!
Wikia is a free-to-use site that makes money from advertising. We have a modified experience for viewers using ad blockers

Wikia is not accessible if you've made further modifications. Remove the custom ad blocker rule(s) and the page will load as expected.