Seizoen 16
Cédric wordt ziek
In het 16de seizoen wordt Cédric ziek en moet Marie-Rose beenmerg afstaan. In het 17de seizoen hervalt hij.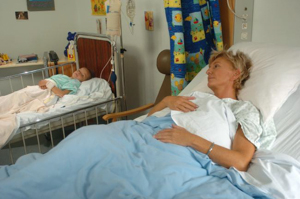 Inhoud
Cédric, het zoontje van Veronique en Mario, loopt al een tijdje rond met blauwe plekken. Veronique verdenkt haar eigen moeder ervan dat ze Cédric mishandeld heeft en dat zorgt snel voor ruzies tussen moeder en dochter.
Later blijkt dat Cédric ernstig ziek is en dat die blauwe plekken het gevolg zijn van een vreselijke ziekte, hij heeft namelijk leukemie. Het enige wat hem kan redden is een beenmergtransplantatie. Marie-Rose is een geschikte donor en zij kan haar kleinzoon redden. Bert en Cixi zijn onmiddellijk bereid om Linea Veronica tijdelijk over te nemen. Voor de bomma wordt verzwegen dat Cédric ziek is pas na Nieuwjaar wordt ze op de hoogte gebracht.
Maar een jaar later slaat het noodlot toe. Cédric wordt opnieuw ziek. Veronique stuurt hem naar een kostschool in Zwitserland waar hij uiteindelijk weer geneest.
Galerij
Ad blocker interference detected!
Wikia is a free-to-use site that makes money from advertising. We have a modified experience for viewers using ad blockers

Wikia is not accessible if you've made further modifications. Remove the custom ad blocker rule(s) and the page will load as expected.