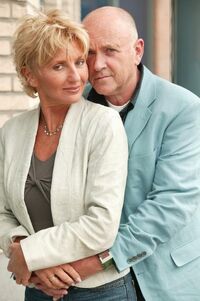 Cathérine De La Mer
is een alias van het personage
Marie-Rose De Putter
. Het kwam voor het eerst ter sprake in het 14de seizoen, wanneer blijkt dat Marie-Rose al jarenlang in Gran Canaria leeft als Cathérine De La Mer. Haar familie denkt dat Marie-Rose samen met
Hugo Beckers
om het leven kwam in een helikoptervlucht, maar Marie-Rose overleefde de crash. Ze had geheugenverlies en werd uit de zee gered door de visser
Christophe Mouret
. Omdat Marie-Rose zelfs haar naam niet herinnerde, gaf Christophe haar de toepasselijke naam 'Cathérine De La Mer'.
Tijdens het 17de seizoen gebruikt Marie-Rose deze alias opnieuw om in contact te komen met aartsvijand Xavier Latour. Wat Marie-Rose echter vergeten is, is dat Xavier weet dat ze vroeger door het leven ging als Cathérine De La Mer. Haar plannetje loopt dus in het water. Hierna wordt de naam nooit meer vernoemd.
Ad blocker interference detected!
Wikia is a free-to-use site that makes money from advertising. We have a modified experience for viewers using ad blockers

Wikia is not accessible if you've made further modifications. Remove the custom ad blocker rule(s) and the page will load as expected.