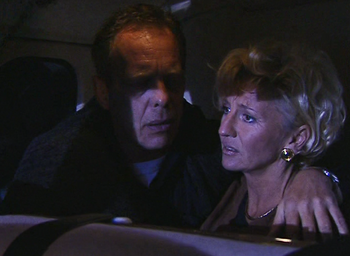 Algemene Informatie
In het 7de seizoen crasht de helikopter van Marie-Rose en Hugo, waarbij Hugo om het leven komt.
Inhoud
Het botert niet meer goed tussen Veronique en haar moeder Marie-Rose, omdat Marie-Rose de liefde van haar leven, Hugo heeft ingepalmd. Deze nieuwe ruzie bovenop de eerdere dood van Peter en scheiding van Guido, drijft Marie-Rose ertoe samen met Hugo een nieuw leven te beginnen. Wanneer ze over de oceaan richting Gran Canaria vliegen, stort hun helikopter neer. Het lichaam van Hugo wordt al snel geborgen. Marie-Rose blijkt spoorloos, maar de hulpdiensten achten het onmogelijk dat ze de crash heeft overleeft.
Enkele maanden nadien krijgt de familie te horen dat ze het lichaam van Marie-Rose alsnog gevonden hebben. Ze wordt begraven in Gran Canaria. Pas tijdens het 14de seizoen wordt duidelijk dat Marie-Rose nog leeft. Een prostituee had de portefeuille van Marie-Rose gevonden op het strand, en wanneer zij plots stierf, dachten de autoriteiten dat zij Marie-Rose De Putter was. 
Trivia
De scene van de helikoptercrash werd opgezonden op maandag 6 april 1998.
Marie-Rose De Putter maakte opnieuw haar opwachting in juni 2005. 
Ad blocker interference detected!
Wikia is a free-to-use site that makes money from advertising. We have a modified experience for viewers using ad blockers

Wikia is not accessible if you've made further modifications. Remove the custom ad blocker rule(s) and the page will load as expected.