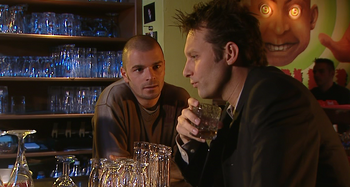 Den Droogen Haaring is een café dat vier seizoenen te zien was in Familie. Terwijl de familie Van den Bossche overdag vaak haar luchpauzes doorbracht in de brasserie Het Bierhuis of in het restaurant De Lork, ging ze 's avonds geregeld naar deze hippere kroeg die vooral op een jonger publiek was gericht.
Het café werd aanvankelijk uitgebaat door Koen Lamoen, nadien namen Rik Ghijselinck en Elke Baertsoen het over. In seizoen 15 ruilden ze Den Droogen Haaring om voor de QV en verdween de locatie uit beeld.
Trivia
Den Droogen Haaring was geen decor, maar een echt café (genaamd Den Druugen Airing) gelegen in Elewijt, op nog geen kwartier van de studio's in Boortmeerbeek. Doordat het café in 2005 de deuren sloot, verdween het ook uit de soap. In 2011 werd Den Druugen Airing alweer heropend op dezelfde locatie.
Ad blocker interference detected!
Wikia is a free-to-use site that makes money from advertising. We have a modified experience for viewers using ad blockers

Wikia is not accessible if you've made further modifications. Remove the custom ad blocker rule(s) and the page will load as expected.