Seizoen 21 - 22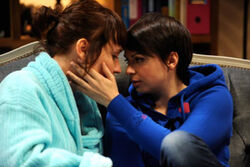 Evy Hermans
en
Jana Pleysier
leerden elkaar kennen in de
KomEet
, waar Jana begon te werken als maître. Evy en Jana werden goede vrienden na de breuk tussen Evy en
Pierrot Van den Bossche
. Bovendien probeerde Evy Jana te helpen met haar gestoorde ex
Chris
. Evy kwam met het plan om Chris wijs te maken dat ze een koppel zijn.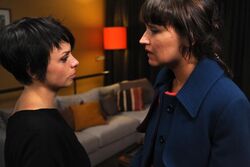 De weken later begint Jana echt verliefd te worden op Evy en ze laat dit ook duidelijk weten. Evy krijgt ook gevoelens maar ze weet niet meteen wat ervan te denken. Ze denkt van zichzelf niet dat ze lesbisch is waardoor ze enorm twijfelt.
Tijdens een passionele avond komt het toch tot een kus tussen de twee dames en ze starten een relatie. De reacties uit de omgeving van Evy waren gemengd. Vooral Rita Van den Bossche kon het moeilijk geloven. 
Tijdens het 22ste seizoen vertelt Evy aan Jana dat ze een kinderwens heeft. Jana ziet dit echter niet helemaal zitten omdat ze moeilijk met kinderen overweg kan. De twee besluiten toch voor een kindje te gaan en ze vragen aan Niko Schuurmans of hij donor wil zijn. Evy wil echter zwanger worden op de natuurlijke manier waardoor ze een aantal keer met Niko naar bed gaat. Er beginnen gevoelens ontstaan tussen de twee en wanneer Jana dit te weten komt, maakt ze onmiddellijk een einde aan hun relatie en vertrekt ze. 
Ad blocker interference detected!
Wikia is a free-to-use site that makes money from advertising. We have a modified experience for viewers using ad blockers

Wikia is not accessible if you've made further modifications. Remove the custom ad blocker rule(s) and the page will load as expected.