Evy Hermans
en
Niko Schuurmans
leerden elkaar kennen dankzij
Pierrot Van den Bossche
. Niko was één van de hangjongeren waarmee Pierrot zich lange tijd bezig hield. Evy en Niko werden goede vrienden van elkaar maar er was nooit sprake van meer. 
Wanneer het tot een breuk komt tussen Evy en Pierrot besluit Evy voor een tijdje alleen te blijven. Onverwachts wordt Niko toch verliefd op haar en de twee belanden samen in bed. Maar Evy voelt niet hetzelfde voor Niko en ze wil gewoon vrienden blijven. 
Enkele jaren later, tijdens het 22ste seizoen, krijgen Evy en Niko plotseling gevoelens voor elkaar. Evy heeft ondertussen een relatie met Jana Pleysier en de twee hebben een kinderwens. Niko wordt spermadonor maar omdat Evy op de natuurlijke manier zwanger wil worden, gaat ze een paar keer met Niko naar bed. Er beginnen gevoelens te komen tussen de twee. Niko voelt zich schuldig tegenover zijn vriendin Mieke Van den Bossche en wil er mee stoppen maar dat lukt niet.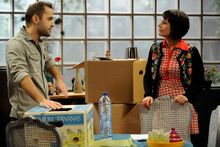 Uiteindelijk komen zowel Mieke als Jana te weten dat hun partners ontrouw zijn geweest. Jana breekt onmiddellijk met Evy en verdwijnt maar Mieke is niet van plan om Niko zomaar af te geven aan Evy. Ze wil strijden voor hem en geeft Niko zelfs de toestemming om ook met Evy te zijn. Dit lukt niet omdat Evy en Mieke alletwee beginnen de vechten voor de aandacht van Niko waardoor deze 'overeenkomst' stop wordt gezet. 
Nadien bleven Evy en Niko wel nog goede vrienden en ook tussen Evy en Mieke kwam alles terug in orde na een goed gesprek. Mieke, Niko en Evy kopen nadien samen een huis en Mieke en Niko komen alsnog terug samen.
Ad blocker interference detected!
Wikia is a free-to-use site that makes money from advertising. We have a modified experience for viewers using ad blockers

Wikia is not accessible if you've made further modifications. Remove the custom ad blocker rule(s) and the page will load as expected.