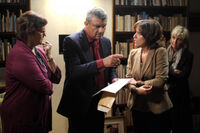 F@C (Fashion at Sea) was het bedrijf van Gilbert Vandersmissen en Colette Vermeir. Colette bemoeide zich echter al jaren niet meer met het dagelijkse bestuur van het bedrijf. Die rol was weggelegd voor Caroline De Meester, die naast PR-verantwoordelijke ook de rechterhand van Gilbert was.
Sinds de ontmoeting tussen Mathias Moelaert en Gilbert Vandersmissen ontstond er een samenwerking tussen de twee modebedrijven. Veronique Van den Bossche was hier eerst niet voor te vinden, omdat ze bang was dat de confectiekleding niet zou samengaan met de pret-à-porter-kleding van MVM. Uiteindelijk ontstaat er een goede samenwerking tussen de twee en ontstaan er enkele kledinglijnen die zeer succesvol waren bij het publiek.
Na de dood van Gilbert, kwam het bedrijf volledig in de handen van Colette. Colette wou al snel het bedrijf verkopen, en toen kwam het in de handen van de familie Van den Bossche. Dit zorgde voor een fusie van F@C en MVM tot VDB Fashion, een onderdeel van de VDB Holding. 
Werknemers bij einde
Ad blocker interference detected!
Wikia is a free-to-use site that makes money from advertising. We have a modified experience for viewers using ad blockers

Wikia is not accessible if you've made further modifications. Remove the custom ad blocker rule(s) and the page will load as expected.