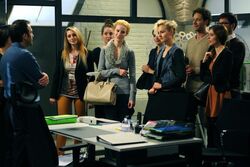 Fashion Agency is een onderdeel van de VDB Holding. Het bedrijf heette voordien Casters Agency en werd geleid door Elise Casters, tot zij stierf bij een ongeluk.
Peter Van den Bossche, die een relatie had met Elise, besluit na enige tijd om het modellenbureau over te nemen en onder te brengen in de VDB Holding. Sindsdien heet het Fashion Agency. Tijdens het 25ste seizoen zet Peter een stap terug als manager en krijgt Stefanie Coppens de volledige verantwoordelijkheid over deze tak. In datzelfde seizoen vraagt ze ontslag, na persoonlijk aandringen, de nieuwe CEO Simon Feyaerts is uiteindelijk op deze vraag ingegaan. 
Huidige Personeelsleden
Vorige Personeelsleden
Foto's
Ad blocker interference detected!
Wikia is a free-to-use site that makes money from advertising. We have a modified experience for viewers using ad blockers

Wikia is not accessible if you've made further modifications. Remove the custom ad blocker rule(s) and the page will load as expected.