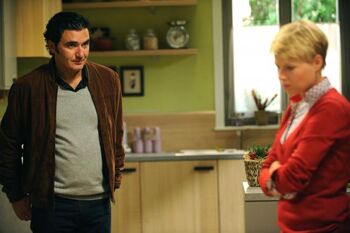 Guido probeert opnieuw een gesprek aan te gaan met Kobe omdat zijn klasgenoot Ralf niet meer met hem mag omgaan van zijn ouders. Kobe blijft echter beweren dat hij niet achter het stuur zat. Stefanie wil alles weten over het weekendje Cadzand van Hannah en Thomas. De twee hebben een verschillende mening over hun uitje en Thomas lucht zijn hart bij Stefanie. Patrick merkt dat zijn kleindochter nog steeds verliefd is en waarschuwt haar voor de gevolgen. Tot grote verbazing van Marie-Rose is Veronique bereid om met Peter te praten. Maar kan ze Peter hiervan ook overtuigen? Faroud probeert Leen te overtuigen van zijn liefde voor haar en is zelfs van plan om zijn job bij de anti-terreurdienst op te geven. Leen wil dat hij eerst nog eens goed nadenkt over zijn beslissing.
Ad blocker interference detected!
Wikia is a free-to-use site that makes money from advertising. We have a modified experience for viewers using ad blockers

Wikia is not accessible if you've made further modifications. Remove the custom ad blocker rule(s) and the page will load as expected.