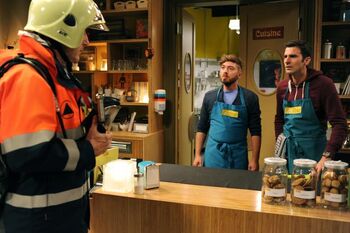 Een gekantelde tankwagen zorgt voor flink wat problemen. Door een giftige stof die is vrijgekomen, mag niemand zich nog naar buiten begeven. Een maatregel die de nodige spanningen met zich meebrengt.
Peter
besloot net op dat moment toch met
Marie-Rose
mee te gaan naar
Véronique
. De spanning is te snijden tussen de twee en Marie-Rose probeert te bemiddelen.
Mieke
en
Niko
keerden juist terug uit Berlijn, maar Niko moest terug de baan op omdat hij zijn portefeuille vergeten was in de vlieghaven. Ook
Anna
,
Linda
,
Leen
en
Rudi
bevinden zich in het huis van de 'Friends', maar Leen is er niet gerust is. Vooral omdat ze
Arthur
heeft achtergelaten bij
Jan
, die de hulp krijgt van
Albert
,
Mathias
,
Patrick
en
Benny
. Ook
Stefanie
en
Thomas
zijn afgesloten van de buitenwereld in de woning van Leen en proberen er het beste van te maken.
Guido
is genoodzaakt de nacht door te brengen in het ziekenhuis, omdat hij net op bezoek was bij Emma.
Maarten
en
Zjef
ten slotte proberen de klanten van de Foodbar het zo comfortabel mogelijk te maken. Tot ze met een diabetespatiënt te maken krijgen...
Ad blocker interference detected!
Wikia is a free-to-use site that makes money from advertising. We have a modified experience for viewers using ad blockers

Wikia is not accessible if you've made further modifications. Remove the custom ad blocker rule(s) and the page will load as expected.