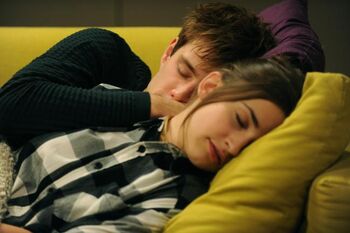 Thomas en Stefanie ontwaken weer samen en voelen zich goed bij elkaar. Thomas hoopt dat ze eerlijk kan zijn over haar gevoeles voor hem. Faroud brengt Leen op de hoogte dat de quarantaine opgeheven is. Niko keert ook terug naar huis en er volgt een emotionele hereniging met Mieke. Ondertussen vertelt Faroud dat hij zijn overplaatsing aangevraagd heeft. Ook in de Jan en Alleman is het nieuws aangekomen dat ze terug naar buiten kunnen. Mathias, Jan en Patrick zorgen er samen voor dat de waterbedeling eerlijk verloopt, want het leidingwater zal nog enkele dagen niet drinkbaar zijn. Luc doet echter moeilijk en vertrouwt Mathias niet. Hij zorgt ervoor dat de organisatie in het honderd loopt. Hannah vraagt zich af waarom Thomas haar niet komt opzoeken, maar krijgt te horen dat hij het te druk heeft. Veronique en Peter proberen op een beschaafde manier afscheid te nemen en Marie-Rose hoopt dat ze alletwee aanwezig zullen zijn op haar eindejaarsfeestje. Rudi krijgt bij Vero Bello opnieuw bezoek van Joppe, die ongerust was omdat hij Rudi niet aan de lijn kreeg tijdens het gedoe met de gifwolk. In het ziekenhuis moet Guido afscheid nemen van Emma, wanneer haar vader opduikt.
Ad blocker interference detected!
Wikia is a free-to-use site that makes money from advertising. We have a modified experience for viewers using ad blockers

Wikia is not accessible if you've made further modifications. Remove the custom ad blocker rule(s) and the page will load as expected.