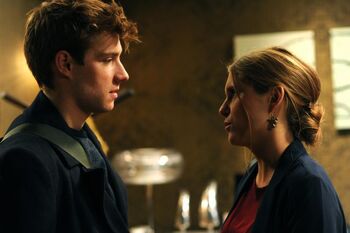 Thomas zet zijn voornemen om de naam van Peter te zuiveren verder en neemt contact op met inspecteur Hoste. Hij hoopt zo het onderzoek naar June te kunnen openen. Ondertussen maken en hij en Hannah de beslissing om als vrienden uit elkaar te gaan en weet Stefanie niet goed hoe ze zich moet gedragen in het bijzijn van de twee. Guido bespioneert het huis van Koen en Ilse en rapporteert aan Emma. Véronique ondertekent nietsvermoedend het contract met Dario Rinaldi. Joppe komt Rudi opzoeken bij hem thuis, maar dat is niet naar de zin van een jaloerse Zjef. In de Jan en Alleman komt het tot een hevige discussie tussen Mathias en Luc omdat de gemeente niet genoeg water voor iedereen kan voorzien. Mathias kan het op een creatieve manier oplossen. Niko deelt opnieuw zijn twijfels in verband met het café met Mieke en droomt luidop van een nieuwe uitdaging. Leen en Faroud hebben het weekend samen doorgebracht, maar Faroud wordt opnieuw opgeroepen door zijn dienst.
Ad blocker interference detected!
Wikia is a free-to-use site that makes money from advertising. We have a modified experience for viewers using ad blockers

Wikia is not accessible if you've made further modifications. Remove the custom ad blocker rule(s) and the page will load as expected.