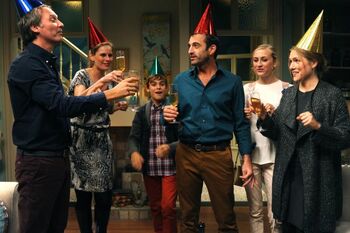 Patrick heeft de schade geraamd die hij heeft opgelopen door de gifwolk en het verontreinigde water. Leen heeft nog altijd niets vernomen van Faroud en vreest het ergste. Ze weigert naar het feestje van Mieke en Niko te gaan, tot ze een verlossend telefoontje krijgt. Anna zit met een probleem wanneer ze niet één, maar vier keer uitgenodigd wordt om Nieuwjaar te vieren. Marie-Rose komt met de oplossing. Thomas hoopt dat Stefanie met hem oudjaar wil vieren, maar ze heeft zo haar twijfels. Ook zijn huisgenoten vinden het iets te snel na zijn breuk met Hannah. Liesbeth probeert haar dochter moed in te praten. Veronique confronteert June met het bezoekje van inspecteur Hoste. Ze wil niet dat haar levenswerk door June kapot wordt gemaakt. Guido probeert de getuige te overhalen om naar de politie te stappen, maar die ziet dat niet zitten. Ondertussen vertelt Emma dat ze onder het mes moet, maar dat de kans bestaat dat ze voor de rest van haar leven verlamd zal zijn...
Ad blocker interference detected!
Wikia is a free-to-use site that makes money from advertising. We have a modified experience for viewers using ad blockers

Wikia is not accessible if you've made further modifications. Remove the custom ad blocker rule(s) and the page will load as expected.