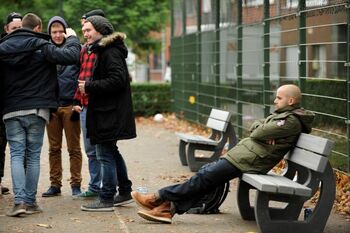 Evy mag het ziekenhuis al verlaten, maar heeft de schrik goed te pakken. Niko en Mieke zorgen er onmiddellijk voor dat alle apparaten in huis gecontroleerd worden. Arno besluit open kaart te spelen met de directeur, met alle gevolgen van dien. Hij wordt ontslagen. Patrick wil het hier niet bij laten en dreigt met actie. Musto en zijn makkers proberen Niko te testen door te praten over een overval op een nachtwinkel, maar hij komt hierdoor voor een ernstig dilemma te staan. Belt hij de politie of niet? Rudi maakt zich zorgen over Veronique, die nog steeds onder druk van June staat. Evy en Faroud helpen Maarten met de opvang van ondertussen vier kindjes. Op het cruiseship ontmoeten Rita en Lientje de kapitein en Dave, de ene helft van het zangduo Dave & Daisy.
Ad blocker interference detected!
Wikia is a free-to-use site that makes money from advertising. We have a modified experience for viewers using ad blockers

Wikia is not accessible if you've made further modifications. Remove the custom ad blocker rule(s) and the page will load as expected.