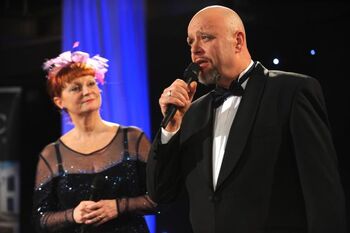 Louise en haar klasgenoten krijgen van de directeur het nieuws dat Arno ontslagen is. Benny raadt Louise aan om zelf actie te ondernemen. Niko krijgt het hard te verduren van Musto en zijn gasten. Bovendien wordt zijn romantisch avondje met Mieke verstoord door een lastig telefoontje. Rita en Lientje beleven een fantastische avond tijdens de show van Dave & Daisy. Thomas wordt officieel mede-aandeelhouder van VDB, maar zijn ambities reiken nog veel verder. Hij hoopt ooit de opvolger van Peter te kunnen worden. Samen met Peter, Mathias en Bart viert hij zijn toetreding tot de Raad van Bestuur en Thomas smijt meteen een gewaagd idee op tafel. Waarom werken VDB Fashion en Vero Bello eigenlijk niet samen? Faroud en Maarten zijn nog steeds babysitters van dienst, tot Arthur aan een giftige plant knabbelt...
Ad blocker interference detected!
Wikia is a free-to-use site that makes money from advertising. We have a modified experience for viewers using ad blockers

Wikia is not accessible if you've made further modifications. Remove the custom ad blocker rule(s) and the page will load as expected.