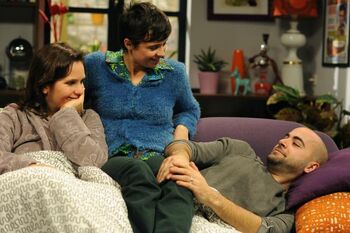 Thomas wordt nog steeds onder druk gezet door Andy en raakt steeds meer geïsoleerd van een achterdochtige Stefanie. Andy zet Thomas opnieuw op zijn escortewebsite waardoor Thomas verschillende telefoontjes krijgt van vrouwelijke klanten. Hij heeft geen andere keuze dan de 30.000 euro te betalen. Niko doet een extra inspanning op het werk, maar betrekt Mieke onbewust bij de zaak. Rita's optreden op de cruise is een ongelofelijk succes, maar valt niet bij iedereen in goede aarde. Daisy kan haar jaloezie moeilijk verbergen. Dankzij een verspreking van Zjef komt Stefanie te weten dat haar mama misschien voor drie maanden naar Engeland gaat. Liesbeth wil het echter nog geheimhouden voor Benny. Leen twijfelt steeds meer aan de oprechtheid van Faroud en zoekt steun bij haar broer.
Ad blocker interference detected!
Wikia is a free-to-use site that makes money from advertising. We have a modified experience for viewers using ad blockers

Wikia is not accessible if you've made further modifications. Remove the custom ad blocker rule(s) and the page will load as expected.