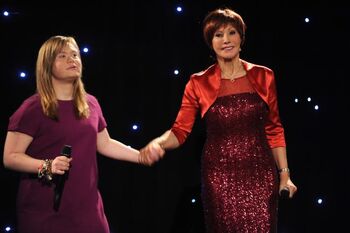 Stefanie stelt zich vragen over haar relatie met Thomas: hebben ze wel een toekomst samen? Ook de zwijgplicht die ze thuis opgelegd krijgt, valt haar zwaar. Thomas probeert ondertussen zijn aandelen van VDB weer te verkopen zodat hij Andy kan betalen, maar Peter reageert verbaasd. Liesbeth is aanvaard voor de seminarie in Engeland, maar durft nog steeds Benny niet in te lichten. Niko heeft een verkwikkende dag op het werk en dat komt zijn relatie met Mieke ten goede. Ook tussen Guido en Emma gaat het goed en ze zetten eindelijk hun volgende stap. Terwijl Faroud zich klaarmaakt om naar Albanië te vertrekken voor het huwelijk van zijn zus, blijft Leen met een slecht gevoel achter. Waarom mag ze zijn familie niet leren kennen? Maarten beseft dat hij zijn zus niet kan achterlaten en wil dan toch niet alleen gaan wonen. Dave stelt aan Rita voor om hun show aan te passen, maar wat denkt Daisy daarvan?
Ad blocker interference detected!
Wikia is a free-to-use site that makes money from advertising. We have a modified experience for viewers using ad blockers

Wikia is not accessible if you've made further modifications. Remove the custom ad blocker rule(s) and the page will load as expected.