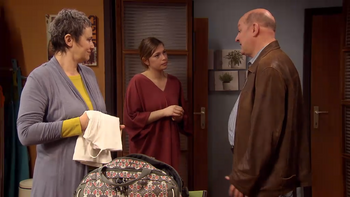 Het weekend bij de familie Pauwels is rustig verlopen en Delphine kan het goed vinden met Benny, Liesbeth en Stefanie. Ze hoopt dan ook dat ze volgend weekend opnieuw naar huis kan komen. Louise kan niet meer slapen sinds de terugkeer van Delphine. Hannah, Trudy en Jelle probeert haar op te vrolijken. Benny blijft vermoeden dat Liesbeth iets voor hem verbergt. Liesbeth zelf wil zijn achterdocht wegwerken door een dagje samen door te brengen voor ze opnieuw naar Reading vertrekt. De onderhandelingen tussen Fashion en Vero Bello gaan de goede kant op en zowel Peter als Veronique staan volledig achter de plannen. Maarten krijgt een nieuwe uitdagende proef bij Staatsveiligheid en zal enkele dagen opgesloten worden in een kamer. Leen maakt zich zorgen en probeert via Faroud te weten te komen wat hem te wachten staat. De communicatie tussen Mathias en Marie-Rose loopt zeer stroef en Mathias spendeert zijn tijd veel liever in het atelier van Patrick.
Ad blocker interference detected!
Wikia is a free-to-use site that makes money from advertising. We have a modified experience for viewers using ad blockers

Wikia is not accessible if you've made further modifications. Remove the custom ad blocker rule(s) and the page will load as expected.