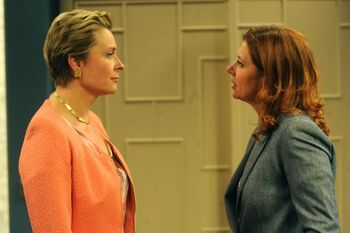 Freddy daagt Agnes bij haar thuis uit, maar de familie Pauwels steunt haar bij de confrontatie. Marie-Rose stevent af op een depressie. Mathias besluit Linda om hulp te vragen. Het personeel van Fashion wil weten wat de overeenkomst met Vero Bello voor hen zal veranderen. Veronique zorgt er bovendien voor dat June deze samenwerking niet zal gebruiken om Peter op stang te jagen. Liesbeth neemt een meer zelfzekere houding aan tijdens de les en spreekt opnieuw af met Ben. Maarten ondergaat een leugendetectortest en slaagt voor de volle 100%. Faroud heeft er een goed oog in.
Ad blocker interference detected!
Wikia is a free-to-use site that makes money from advertising. We have a modified experience for viewers using ad blockers

Wikia is not accessible if you've made further modifications. Remove the custom ad blocker rule(s) and the page will load as expected.