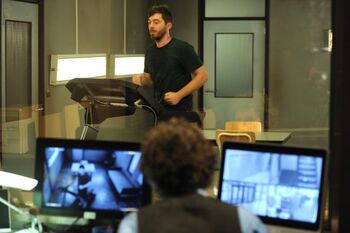 Maarten ondergaat nog steeds zware fysieke proeven bij Staatsveiligheid. Faroud laat Evy en Leen weten dat hij het goed doet en dat het einde bijna in zicht is. Liesbeth heeft twijfels bij de intenties van Ben en wil stoppen met de bijlessen. Tot ze een uitnodiging krijgt om bij hem thuis op bezoek te komen. Kitty vreest dat Ben maar één ding wil, maar groot is Liesbeths verbazing wanneer ze in zijn huis een foto van een vrouw aantreft. De haatcampagne van Freddy bereikt de familie Pauwels via Facebook en Agnes kan de stress niet langer aan. Patrick ziet het idee van Mathias om een bedrijfje op te richten niet zitten, maar kan hem dat niet vertellen. Mathias is ondertussen verrast wanneer hij merkt dat Marie-Rose terug de oude geworden is. Trudy zorgt ervoor dat Hannah door Mario rondgeleid zal worden in Milaan, zodat ze zich niet alleen voelt.
Ad blocker interference detected!
Wikia is a free-to-use site that makes money from advertising. We have a modified experience for viewers using ad blockers

Wikia is not accessible if you've made further modifications. Remove the custom ad blocker rule(s) and the page will load as expected.