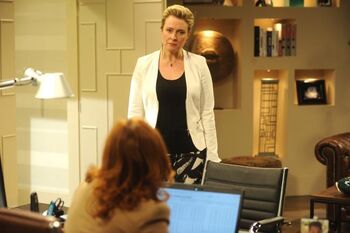 Maarten komt verslagen terug van zijn tests. Leen maakt zich ernstig zorgen over hem. Evy is dolgelukkig na een romantisch kus met Maarten, maar denkt hij er ook zo over? June is razend als ze verneemt dat Rudi nu voor Fashion werkt. Ze kan het niet laten om 's avonds laat haar opwachting te maken bij VDB, tot grote frustratie van Peter. Ben nodigt Liesbeth uit voor een weekendje weg. In de Jan en Alleman komt het opnieuw tot een confrontatie met Freddy. Agnes maakt zich zorgen dat Delphine te weten komt wat er allemaal gebeurd is en probeert haar gerust te stellen. Patrick, Mathias, Guido en Jan maken concrete plannen voor hun nieuwe bedrijfje. Terwijl Rudi zijn spullen naar Fashion verhuist, maakt Hannah zich klaar om naar Milaan te vertrekken.
Ad blocker interference detected!
Wikia is a free-to-use site that makes money from advertising. We have a modified experience for viewers using ad blockers

Wikia is not accessible if you've made further modifications. Remove the custom ad blocker rule(s) and the page will load as expected.