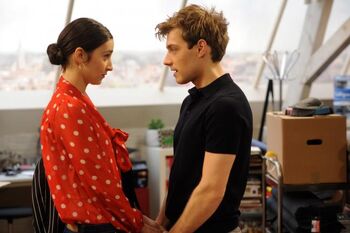 Peter stuurt zijn personeel een mail met de boodschap dat hij een tijdje afwezig zal zijn. Intussen laat hij de dagelijkse leiding over aan Thomas en Mathias. In de Jan en Alleman komt Freddy nog maar eens Agnes treiteren, want haar klacht tegen hem werd geseponeerd. Wanneer Jan het nog steeds vertikt om partij te kiezen, vertrekt ze met slaande deuren. Thomas en Veronique raken het erover eens dat er naast Rudi een tweede ontwerper moet komen. Intussen nodigt Veronique Benny uit voor een etentje. Ook Liesbeth krijgt een onverwachte uitnodiging, zij het van Kato. Jan en Leen hebben het er moeilijk mee dat Maarten morgen al naar India vertrekt, maar Mieke toont meer begrip. Intussen nemen Maarten en Evy alvast afscheid van elkaar. Thomas vraagt Stefanie ten huwelijk.
Ad blocker interference detected!
Wikia is a free-to-use site that makes money from advertising. We have a modified experience for viewers using ad blockers

Wikia is not accessible if you've made further modifications. Remove the custom ad blocker rule(s) and the page will load as expected.