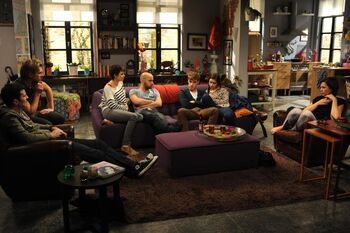 Thomas belandt in het ziekenhuis. Wanneer blijkt dat hij dringend een donornier nodig heeft, onthult hij dat hij nog een broer heeft. Met de hulp Arno komt Agnes erachter dat niet Freddy, maar wel Louise achter Facebook-profiel zit dat de haat rond Delphine verspreidt. Jan heeft veel last van spierpijn de dag na zijn eerste loopsessie en wil er alweer mee stoppen. Mirthe licht FreEco-leider Hannes in over de achtergrond van Louise. Ze besluiten dat haar komst veel voor hen kan betekenen. Benny is niet van plan uit Reading te vertrekken zonder Ben eerst stevig op zijn plaats te zetten.
Ad blocker interference detected!
Wikia is a free-to-use site that makes money from advertising. We have a modified experience for viewers using ad blockers

Wikia is not accessible if you've made further modifications. Remove the custom ad blocker rule(s) and the page will load as expected.