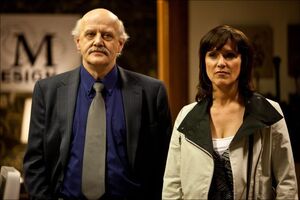 Gilbert Vandersmissen had al enkele jaren een affaire met zijn rechterhand Caroline De Meester terwijl hij nog steeds getrouwd was met Colette Vermeir. Colette wist van de affaire maar had er nooit bezwaar tegen.
Gilbert en Caroline waren dolverliefd maar toch wou Gilbert nooit scheiden van Colette omdat hij dan een groot fortuin zou verliezen. Caroline heeft dit nooit kunnen aanvaarden. Hun relatie eindigt wanneer Gilbert plotseling een hartaanval krijgt.
Ad blocker interference detected!
Wikia is a free-to-use site that makes money from advertising. We have a modified experience for viewers using ad blockers

Wikia is not accessible if you've made further modifications. Remove the custom ad blocker rule(s) and the page will load as expected.