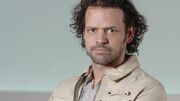 Govert Deploige
(Tongeren, 17 maart 1973) is een Vlaams acteur. Hij is getrouwd met
Britt Van der Borght
, die in het verleden de rol van
Gerda Donckers
speelde in Familie. Deploige had al een zoon uit zijn vorig huwelijk, zij een dochter. Deploige heeft een broer, Jeroen Deploige, die hoofddocent is aan de Universiteit Gent.
Deploige's bekendste rollen zijn die van dokter Michaël Bastiaens in Thuis en van Steven 'Steve' Mertens in W817. Ook speelde hij gastrollen in Mega Mindy (Peter), Flikken (Dino), Witse (Damiaan Minne, Toon), Aspe (Jacky), F.C. De Kampioenen (Didier), Zone Stad (Jeff Nash), Spring (kickerspeler in reeks 1 en boksleraar Koen in reeks 6) en Hallo K3! (pizzabezorger). Deploige sprak tevens de stem in van Olaf in de Disneyfilm Frozen uit 2013.
Tussen 2007 en 2008 speelde Deploige hoofdverpleger Wim Michiels in de VTM-serie Spoed. In 2009 was hij te zien in Familie als Geert Van Loo, in 2013 en 2014 als Wouter Dewynter en in 2017 neemt hij tijdelijk de rol van Benny Coppens over van acteur Roel Vanderstukken, die buiten strijd geraakt is.
Deploige presenteert sinds begin 2009 het Ketnet-programma Sherlock en was ook te zien in Wij van België. In 2010 had hij een gastrol in de Eén-reeks Goesting. In februari van dat jaar was hij ook de Vlaamse stem van Matreus in de Ketnetreeks 4 Tegen Z. Deploige speelde ook een gastrol in Rox en is de stemregisseur van de nieuwe natuurdocumentaire van Disney: Chimpanzee. In 2016 verleent hij zijn stem aan een reclamespot voor het product Antikal.
Ad blocker interference detected!
Wikia is a free-to-use site that makes money from advertising. We have a modified experience for viewers using ad blockers

Wikia is not accessible if you've made further modifications. Remove the custom ad blocker rule(s) and the page will load as expected.