Griekenland komt voor het eerst ter sprake, wanneer Peter naar Griekenland gaat, omdat hij een studie gaat doen van de impact van kledij op de ecologische voetafdruk.
Peter voert onderzoek uit in Griekenland (Seizoen 24)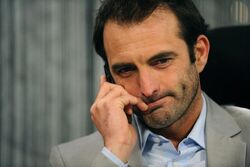 Griekenland komt hier niet in beeld, maar wel ter sprake. Er is een joint venture tussen VDB Fashion en Vero Bello, waardoor June constant bij VDB rondloopt. Peter ergert zich hier enorm aan en hij wilt June niet meer zien. Ze vindt het echter leuk om hem te pesten en ze verschijnt daarom nog meer bij VDB. Peter is niet van plan om zich nog langer op kantoor te laten zien. Hij verdiept zich in een studie van de impact van kledij op de ecologische voetafdruk. Daarvoor gaat hij naar Griekenland. Hij maakt zijn familie en zijn werknemers duidelijk dat hij niet snel zal terugkeren en hij neemt afscheid van hen. Daarna vertrekt hij naar Griekenland.
Een overzicht van de personages die momenteel in Griekenland wonen:
Een overzicht van de personages die in Griekenland gewoond hebben:
Trivia
Peter Van den Bossche werd voor een tijdje uit de reeks geschreven, omdat acteur Gunter De Batselier naar het buitenland moest voor haarimplantaten. Hij was echter al snel weer terug. De scènes, waarin Peter vanuit Griekenland belt, zijn in werkelijkheid opgenomen in Turkije.
Ad blocker interference detected!
Wikia is a free-to-use site that makes money from advertising. We have a modified experience for viewers using ad blockers

Wikia is not accessible if you've made further modifications. Remove the custom ad blocker rule(s) and the page will load as expected.