Seizoen 22 - 24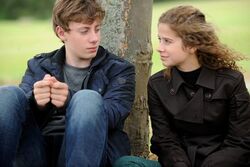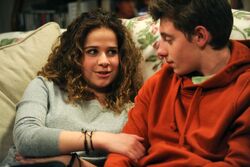 Guido Van den Bossche en Charlotte Kennis zaten samen in dezelfde klas en leerden elkaar zo kennen. Ze waren gewoon vrienden tot Guido gepest begon te worden door Vincent en Elias. Charlotte had medelijden met Guido en probeerde hem te helpen door voor hem op te komen. Guido begon verliefd te worden op Charlotte en maakte een afspraakje met haar. De vonk sloeg toen over en de twee starten een relatie.
Jan Van den Bossche en Linda Desmet waren ontzettend blij met het nieuws maar de relatie bleef niet lang duren dankzij de twee pestkoppen. Ze zorgden ervoor dat Guido het uitmaakte met haar door hem te doen geloven dat Charlotte hem bedroog met Elias. Enkele weken later komt de waarheid aan het licht en beginnen Guido en Charlotte elkaar opnieuw te zien. Hun relatie overleefde het pestgedrag en de twee bleven bij elkaar. Eind juni 2013 vertrekte Guido samen met Charlotte en haar ouders op vakantie naar Italië.
Tijdens het 23ste seizoen neemt het koppel een belangrijke stap in hun relatie. Ze gaan voor het eerst met elkaar naar bed en gaan bovendien zonder hun ouders op reis naar Spanje. Hun relatie komt tijdens het 24ste seizoen ten einde. Charlotte studeert aan de universiteit in Leuven en de twee zien elkaar nog amper. Guido heeft het gevoel alsof ze uit elkaar gegroeid zijn en maakt er een einde aan.
Foto's
Ad blocker interference detected!
Wikia is a free-to-use site that makes money from advertising. We have a modified experience for viewers using ad blockers

Wikia is not accessible if you've made further modifications. Remove the custom ad blocker rule(s) and the page will load as expected.