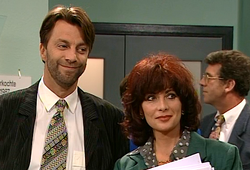 Guido Van Den Bossche en Claire De Ruyter leren elkaar kennen tijdens het vierde seizoen. Guido is juist gescheiden van Marie-Rose De Putter en vindt in Claire de perfecte tweede vrouw.  
Hun liefdesgeluk mag echter niet lang blijven duren. Twee jaar later verongelukt Claire tijdens een reisje naar Malta. Guido en Claire zijn er samen met heel de familie om de opening van de 'Peter Van den Bossche Plant' te vieren. Een huurmoordenaar van aartsvijand Didier De Kunst verstoord een romantisch moment tussen de twee door een gifpijltje af te vuren. Terwijl het pijltje voor Guido bedoeld was, is Claire het slachtoffer. Samen vallen ze van een rots naar beneden. Claire overleeft de val niet, en Guido belandt in een rolstoel.
Foto's
Ad blocker interference detected!
Wikia is a free-to-use site that makes money from advertising. We have a modified experience for viewers using ad blockers

Wikia is not accessible if you've made further modifications. Remove the custom ad blocker rule(s) and the page will load as expected.