Seizoen 6 - 9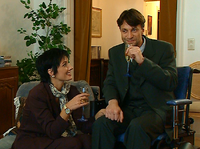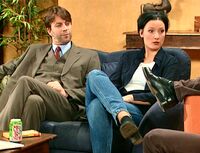 Guido Van den Bossche en Els D'hollander leerden elkaar kennen tijdens de tijdsprong van het zesde seizoen. Guido raakte verlamd na een val en belandde in een rolstoel. Els is zijn thuisverpleegster en zo werden de twee verliefd op elkaar. Ze trouwden met elkaar in het bijzijn van heel de familie. 
Guido en Els waren enkele jaren zeer gelukkig met elkaar. Samen stonden ze in voor de opvoeding van Enrique Van den Bossche, de verwilderde zoon van Peter Van den Bossche. Tot Enrique betrokken raakte bij een dodelijk ongeval. Guido en Els beleefden samen ook spannende momenten, dankzij aartsvijand Didier De Kunst, die het nog steeds op Guido gemunt heeft. Tijdens een romantisch boodtochtje klimt Didier aan boord en probeert hij zowel Guido als Els te vermoorden. Het mislukt en het is Didier die neergeschoten wordt. 
Het noodlot slaat alsnog toe tijdens een reisje naar Malta. Guido wordt opgewacht door leden van de sekte van Salomon, die ooit Peter Van den Bossche ontvoerd hadden. Hij werd neergestoken en overleefde de aanslag niet. Els hertrouwde nadien met Vincent Misotten. 
Lees Meer
Voor het huwelijk van Guido en Els, zie hier.
Ad blocker interference detected!
Wikia is a free-to-use site that makes money from advertising. We have a modified experience for viewers using ad blockers

Wikia is not accessible if you've made further modifications. Remove the custom ad blocker rule(s) and the page will load as expected.