Seizoen 15 - heden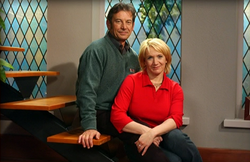 Guy Maeterlinck
en
Eline Vaerenbergh
ontmoeten elkaar in de psychiatrische instelling waar Eline als psychiater werkt. Eline is de dokter van zijn vrouw
Annemarie Govaert
. Na haar dood worden de twee verliefd op elkaar en beginnen ze een relatie. De twee gaan samenwonen en krijgen nadien het gezelschap van Elines tweelingdochters:
Noa de Rixart de Waremme
en
Zoë de Rixart de Waremme
. Aan het einde van het 16de seizoen verhuist het gezinnetje naar Amerika. Over de toestand van hun relatie op dit moment is geen informatie. 
Ad blocker interference detected!
Wikia is a free-to-use site that makes money from advertising. We have a modified experience for viewers using ad blockers

Wikia is not accessible if you've made further modifications. Remove the custom ad blocker rule(s) and the page will load as expected.