Herwig Verleyen
Seizoenen
9
Eerste verschijning
Najaar 1999
Laatste verschijning
Voorjaar 2000
Gespeeld door
Geert Willems



Kinderen
-
Ouders
Onbekend
Huidige categorie
Vorige Gastpersonages
Herwig Verleyen is een tijdje de vriend van Veronique Van den Bossche. Na de dood van Guido Van den Bossche wordt hij door haar naar voren geschoven om de nieuwe algemeen directeur bij VDB Electronics te worden. Uiteindelijk gaat die job naar Vincent Misotten.
Intussen verbiedt Veronique het Herwig om nog langer met Vincents zus Cathérine Misotten om te gaan, nadat die hem meermaals heeft proberen inpalmen. Wanneer blijkt dat hij niet van plan is zich hieraan te houden, komt er een einde aan de relatie. Herwig verdwijnt uit beeld.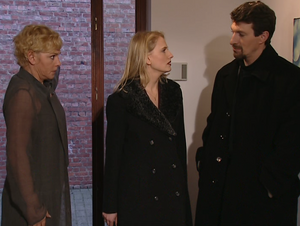 Ad blocker interference detected!
Wikia is a free-to-use site that makes money from advertising. We have a modified experience for viewers using ad blockers

Wikia is not accessible if you've made further modifications. Remove the custom ad blocker rule(s) and the page will load as expected.