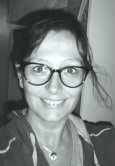 Hilde De Roeck
(Hamme, 9 april 1970) is een Vlaamse actrice.
Ze studeerde af in 1992 aan de Studio Herman Teirlinck, afdeling kleinkunst, maar in 1991 kreeg ze reeds een hoofdrol in Familie aangeboden. Twee seizoenen lang (tot mei 1993) vertolkte zij hierin de rol van Marleen Van den Bossche. Nadien had ze nog gastrollen in Wittekerke, De Makelaar en Spoed. In 2003 stopte ze definitief met acteren. 
Gedurende 10 jaar was zij de helft van de De Dulle Roeckers, een cabaretduo met de Nederlandse Ingrid Dullens. Met shows als Bloot en meedogenloos en Chickentales deden ze de Vlaamse en Nederlandse cabaretcircuits aan. Nadien hield ze zich vooral bezig met het schrijven en spelen van jeugdvoorstellingen voor Produktienest Karper. Tegenwoordig is ze vooral actief als dramadocente in de academies van Beveren en Sint Niklaas.
Ad blocker interference detected!
Wikia is a free-to-use site that makes money from advertising. We have a modified experience for viewers using ad blockers

Wikia is not accessible if you've made further modifications. Remove the custom ad blocker rule(s) and the page will load as expected.