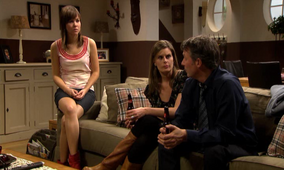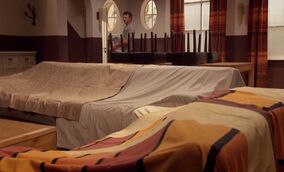 Bart Van den Bossche liet dit huis bouwen samen met zijn vrouw Brenda Vermeir. Tijdens het 19de seizoen nam Brenda een hypotheek op het huis terwijl Bart op wereldreis was, waardoor ze het nadien niet meteen konden verkopen. Het huis was voor het laatst te zien op 28 juni 2013, in de seizoensfinale van seizoen 22. Bart en zijn nieuwe vriendin Trudy Tack de Rixart de Waremme verhuisden naar een kleiner huis in de stad.
Eindbewoners
Bart heeft tijdens zijn revalidatie 5 maanden lang verbleven in het Algemeen Ziekenhuis. Tijdens zijn revalidatie verbleef Jelle in het Appartement van Jan. Hanne ging bij het begin van het academiejaar op kot in Antwerpen en verbleef meestal enkel tijdens het weekend in huis.
Vorige Bewoners
Vorige Logés
Brenda is overleden en Marthe kon door haar ouderdom niet meer op de kinderen komen passen. Pierrot en Evy hebben een tijdje in het huis gewoond wanneer Bart in het ziekenhuis verbleef. Ook Maarten en Roos verbleven lange tijd in het huis maar verhuizen in het 22ste seizoen naar hun boerderijtje. Hanne en Remko verbleven op het einde in New York.
Ad blocker interference detected!
Wikia is a free-to-use site that makes money from advertising. We have a modified experience for viewers using ad blockers

Wikia is not accessible if you've made further modifications. Remove the custom ad blocker rule(s) and the page will load as expected.