Seizoen 3 - 4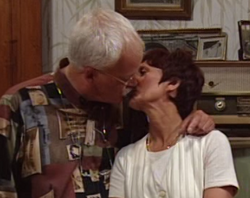 Rita Van den Bossche leert Jack kennen wanneer ze aan de slag gaat als zangeres op een overzetboot. Jack begeleidt haar op de piano, waardoor de twee vaak in elkaars gezelschap doorbrengen. Ze worden verliefd op elkaar, en samen gaan ze een nieuwe uitdaging aan: ze openen een café (Den Rooselaer) met de hulp van Rita's nonkel Walter Dierckx. Rita durft echter als eens een glaastje teveel te drinken, maar Jack vergeeft het haar steeds. 
Op een dag komt Rita's ex-vriend Dirk Cockelaere weer in hun leven. In tegenstelling tot Jack, vindt Dirk het absoluut niet erg dat Rita af en toe alcohol drinkt. Rita en Dirk gaan dan ook vaak samen uit, tot grote teleurstelling van Jack. Wanneer Jack de twee aantreft in bed, vertrekt hij onmiddellijk en laat hij Rita en het café in de steek. 
Ad blocker interference detected!
Wikia is a free-to-use site that makes money from advertising. We have a modified experience for viewers using ad blockers

Wikia is not accessible if you've made further modifications. Remove the custom ad blocker rule(s) and the page will load as expected.