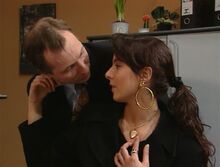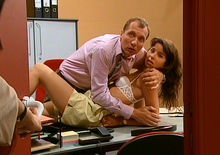 Wanneer Jan Van den Bossche aan de slag gaat bij VDB Electronics, krijgt hij de aantrekkelijke Babette Van Tichelen als zijn persoonlijke secretaresse. Omdat zijn huwelijk met Monique Stevens al lang door een slechte periode gaat, geniet Jan met volle teugen van de aandacht die hij van de speelse Babette krijgt. Hij gaat echter heel ver en koopt zelfs dure cadeautjes voor Babette en neemt haar mee op weekend in een duur hotel. Monique komt dit te weten en wil Jan onmiddellijk aan de deur zetten. De twee geven hun huwelijk nog een kans en Monique neemt Babette zelf onder handen en waarschuwt haar dat ze van Jan moet wegblijven.
Enkele maanden later hervalt Jan al snel in oude gewoontes wanneer Babette troost zoekt nadat ze op het werk slecht behandeld wordt door CEO ad-interim Marie-Rose De Putter. Tijdens een hevige vrijpartij op het kantoor van Jan, komt Monique binnen en betrapt ze de twee. Nadien maakt Jan onmiddellijk een einde aan zijn affaire met Babette, maar Monique kan hem geen tweede keer vergeven. Het komt tot een scheiding.
Trivia
De scène waarin Monique de twee betrapt op kantoor is één van de meest bekende scenes uit de geschiedenis van Familie. Jaren later, in 2015, werd de scène nog eens nagespeeld ter gelegenheid van het 'Lang Leve VTM'. 
Foto's
Ad blocker interference detected!
Wikia is a free-to-use site that makes money from advertising. We have a modified experience for viewers using ad blockers

Wikia is not accessible if you've made further modifications. Remove the custom ad blocker rule(s) and the page will load as expected.