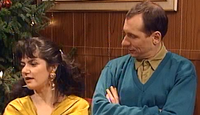 Jan Van den Bossche
en
Monique Stevens
waren al jaren getrouwd met elkaar voor de start van de serie. Ze hebben bij het begin in 1991 twee tieners:
Mieke Van den Bossche
en
Bart Van den Bossche
.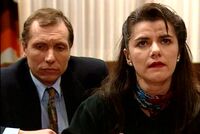 Al snel bleek dat er vaak conflicten zijn tussen het getrouwde koppel. In vergelijking met de broer van Jan leven Jan en Monique sober. Er zijn vaak geldproblemen en dat zorgt voor ruzies binnen het gezin. Daarnaast kan Jan het niet laten om te flirten met het vrouwelijk schoon. Wanneer Monique hem betrapt met zijn secretaresse Babette Van Tichelen is voor haar de maat vol. Ze wil niet langer vechten voor haar huwelijk en is van mening dat Jan haar niet respecteert. Ze geeft hem nog een laatste kans, tot ze Jan en Babette opnieuw betrapt op zijn kantoor. Ze eist een scheiding en gaat het huis uit. 
De twee blijven na de scheiding elkaar nog wel geregeld zien voor hun twee kinderen. Toch gaan ze allebei verder met hun leven. Jan leert Nele Van Winckel kennen en Monique wordt verliefd op Didier De Kunst. 
Ad blocker interference detected!
Wikia is a free-to-use site that makes money from advertising. We have a modified experience for viewers using ad blockers

Wikia is not accessible if you've made further modifications. Remove the custom ad blocker rule(s) and the page will load as expected.