Seizoen 3 - 10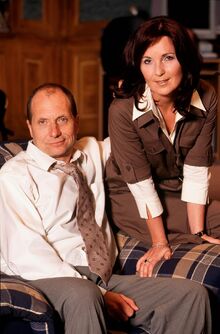 Jan Van den Bossche en Nele Van Winckel trouwden in seizoen 5. Ze leerden elkaar echter al kennen tijdens het derde seizoen. Nele was de tweede vrouw van Jan na zijn scheiding met Monique Stevens. Later kregen ze twee kinderen: Maarten Van den Bossche en Leen Van den Bossche.
Jan en Nele waren een gelukkig koppel maar ze hadden ook hun problemen. Jan durfde wel eens naar het vrouwelijk schoon kijken en Nele was hier niet altijd gelukkig mee. Jan bedriegt haar bijvoorbeeld met secreatresse Jolien Stijnen.
Uiteindelijk gaat het koppel uit elkaar en Nele verdwijnt uit zijn leven. Jan hertrouwt later opnieuw met Linda Desmet en Nele begint een relatie met Wilfried en verhuist naar Frankrijk.
Seizoen 12
Twee jaar later keert Nele echter plotseling terug naar België. Ze begint Jan en Linda te stalken en probeert Jan zelfs terug te verleiden. Ze belanden een paar keer met elkaar in bed maar Jan wil dat Nele voorgoed uit zijn leven verdwijnt. Linda dreigt de politie te bellen en Nele heeft de boodschap begrepen, ze verhuist voorgoed naar Frankrijk. 
Foto's
Trivia
Voor het huwelijk van Jan en Nele, zie hier.
Ad blocker interference detected!
Wikia is a free-to-use site that makes money from advertising. We have a modified experience for viewers using ad blockers

Wikia is not accessible if you've made further modifications. Remove the custom ad blocker rule(s) and the page will load as expected.