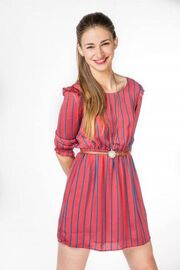 Jasmijn Van Hoof
(3 februari 1991) is een Vlaams actrice. Ze studeerde aan het Antwerpse Conservatorium en volgde aansluitende studies Audiovisuele Kunsten - Assistentie aan het Rits, een departement van de Erasmushogeschool Brussel. 
Televisie
Sinds 14 november 2012 vertolkt ze de rol van Stefanie Coppens in de VTM-soap Familie. Normaal zou ze vanaf mei 2014 een half jaar uit de reeks verdwijnen, zodat Van Hoof zich op haar studies kon focussen. Enkele weken later liet de actrice weten dat ze geen extra tijd nodig had, waardoor Stefanie slechts 1 maand buiten beeld is. 
Voor Jasmijn is Familie haar grote televisiedebuut. Hiervoor was ze te zien in enkele reclamespots, werkte ze mee aan studentenfilmpjes en stond ze op de planken in kleine theaterproducties. In de zomer van 2013 speelt ze een gastrol in één aflevering van de zomersoap Binnenstebuiten op VTM en in 2015 had ze een gastrol in de sitcom Altijd Prijs.
Vanaf februari 2016 gaat Jasmijn met haar vriend Wout op wereldreis voor een jaar doorheen Latijns-Amerika. Hierdoor zal ze voor lange tijd uit beeld blijven. Na de wereldreis is het de bedoeling dat ze opnieuw op de set staat. Jasmijns eerste draaidag na haar terugkeer is op maandag 20 februari 2017. Haar personage zal volgens de media op beeld terug te zien zijn vanaf 16 mei 2017.
| Jaar | Titel | Rol | Opmerking | Foto |
| --- | --- | --- | --- | --- |
| 2017-heden | Familie | Stefanie Coppens | Soap - hoofdrol | |
| 2012-2016 | Familie | Stefanie Coppens | Soap - hoofdrol | |
| 2015 | Altijd Prijs | Naaister | Serie - gastrol | |
| 2014 | Beat Da Bompaz | Zichzelf | Spelprogramma | |
| 2013 | Binnenstebuiten | Lindsey | Soap - gastrol | |
Ad blocker interference detected!
Wikia is a free-to-use site that makes money from advertising. We have a modified experience for viewers using ad blockers

Wikia is not accessible if you've made further modifications. Remove the custom ad blocker rule(s) and the page will load as expected.