Algemene Informatie
Jean-Michel Le Croix is een nevenpersonage dat van 1993 tot en met 1995 vertolkt wordt door Luc Springuel.
Verhaallijnen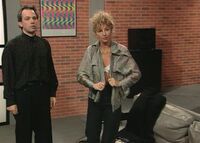 Jean-Michel was de advocaat van Guido en Marie-Rose. Tijdens de ontvoering van Guido, spenderen Jean-Michel en Marie-Rose veel tijd samen en beginnen ze een affaire. Marie-Rose probeert dit verborgen te houden voor haar familie, maar Jean-Michel wil al snel meer. Guido kan van zijn ontvoerders ontsnappen, maar belandt in België in de gevangenis. Wanneer hij vrijkomt, betrapt hij Marie-Rose met Jean-Michel in zijn woonkamer. Guido zet zijn vrouw onmiddellijk op straat en ze gaan uit elkaar.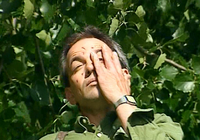 Nadien hebben Jean-Michel en Marie-Rose toch nog een relatie en worden ze ook zakenpartners. Marie-Rose start een modellenbureau met de hulp van Jean-Michel. Jean-Michel heeft ook een broer Alex Le Croix die vanaf seizoen 3 ook in kennis komt met de familie Van den Bossche en in het bijzonder Marie-Rose.
Alex heeft namelijk een oogje op Marie-Rose en doet er alles aan om haar voor zich te winnen. Hij schakelt Didier De Kunst in om Jean-Michel om te brengen. Wanneer Jean-Michel gaat jagen met enkele vrienden, wordt hij getroffen door een schot van Didier. Hij sterft ter plaatse.
Slideshow
Ad blocker interference detected!
Wikia is a free-to-use site that makes money from advertising. We have a modified experience for viewers using ad blockers

Wikia is not accessible if you've made further modifications. Remove the custom ad blocker rule(s) and the page will load as expected.