Algemene Informatie
Jean-Pierre is een nevenpersonage dat van 30 december 1991 tot en met 30 september 1996 vertolkt wordt door Joeri Hancké. Hij overleed buiten beeld tijdens het 6de seizoen.
Verhaallijnen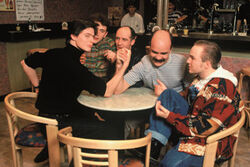 Jean-Pierre is samen met onder meer Peter Van den Bossche, Bruno Van Assche en Willy De Clippeleire lid van 'De bende van Cartouche'. Ze zijn vaste stamgasten in café Het Vissershuis.
Trivia
Het personage is indertijd uit de reeks geschreven om na de tijdsprong van januari 1997 ruimte te maken voor nieuwe gezichten. Om diezelfde reden liepen in die periode ook de verhaallijnen van andere jongeren, zoals Willy De Clippeleire en Bruno Van Assche, ten einde.
Ad blocker interference detected!
Wikia is a free-to-use site that makes money from advertising. We have a modified experience for viewers using ad blockers

Wikia is not accessible if you've made further modifications. Remove the custom ad blocker rule(s) and the page will load as expected.