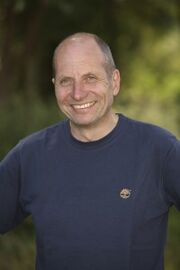 Jef De Smedt
(Willebroek, 30 april 1956) is een Vlaamse acteur bekend als
Jan Van den Bossche
uit Familie.
Het Soapteam
Het Soapteam werd geboren op de top van de Mont Blanc, als symbool van de sportieve verbroedering die daar plaatsvond tussen Familie en Thuis. Onder de kundige leiding van Rudy Van Snick, de eerste Belg die ooit de Mount Everest bedwong, slaagden Jef De Smedt, Erik Goris, Marleen Merckx en Peter Van Asbroeck er immers in om de beklimming van de Mont Blanc tot een goed einde te brengen. Sindsdien doet het soapteam verschillende sportieve evenementen. Ook andere Familie-acteurs maken er deel van, waaronder Anne Somers, Jordi Rottier, Kristine Perpête en Laura Tesoro. 
Televisie
In 1991 had De Smedt zijn eerste televisierol beet in de nieuwe VTM-soap Familie. Hij vertolkt daarin al 25 jaar de rol van Jan Van den Bossche. Hij is daarmee één van de pioniers van de reeks en één van de acteurs die het langs in de reeks te zien is. Buiten zijn rol in Familie heeft De Smedt weinig andere televisieopdrachten. Hij had een kleine rol in de Kiekeboe-verfilming Het Witte Bloed en had een gastrol in Buiten De Zone en Eén Uur Tijdverlies. 
Ad blocker interference detected!
Wikia is a free-to-use site that makes money from advertising. We have a modified experience for viewers using ad blockers

Wikia is not accessible if you've made further modifications. Remove the custom ad blocker rule(s) and the page will load as expected.