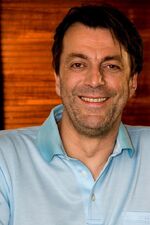 Karel Deruwe
(Brugge, 19 maart 1956) is een Vlaamse acteur in televisieprogramma's (sinds 1985) en daarnaast in het theater.
Privéleven
Deruwe is de echtgenoot van collega-actrice Maya Moreel. In 2008 sloot hij zich aan bij de LDD. 
Televisie
Van 1991 tot 1999 maakte Deruwe deel uit van de cast van Familie. Hij speelde de rol van 'pater familias' Guido Van den Bossche. Door meerdere conflicten met de makers, verliet hij de reeks en werd Guido vermoord. In 1996 won hij een Gouden Oog voor beste tv-acteur. Nadien had hij nog hoofdrollen in onder meer Thuis, Veel geluk, professor, Ella en Crème de la crème.
Jaar
Titel
Rol
Opmerking
Foto
2014
Lang Leve
Guido Van den Bossche
Parodie

2013
Crème de la crème
Jos
Serie - hoofdrol

2012
Zone Stad
Herman Arco
Serie - gastrol
2012
Danni Lowinski
Erik Hanssens
Serie - bijrol

2011
F.C. De Kampioenen
Aimé Dedecker
Serie - gastrol
2010 - 2011
Ella
Werner Wolfs
Telenovelle - hoofdrol

2010
Vermist
Jozef
Serie - gastrol
2010
Dag & Nacht
Walter De Pryck
Serie - gastrol
2007
Katarakt
Rudi Sluys
Serie - bijrol
2006
Emma
Jean-Pierre Cloedt
Telenovelle - bijrol
2006
Steracteur/Sterartiest
Zichzelf
Muziekwedstrijd

2005
De Wet volgens Milo
Vader van Eline
Serie - gastrol
2005
Matroesjka's
Agent
Serie - gastrol
2004 - 2006
Thuis
Walter Frans
Soap - hoofdrol
2004
Rupel
Gert
Serie - gastrol
2004
Aspe
Herman
Serie - gastrol
2004
Witse
Frank
Serie - gastrol
2003
Sedes & Belli
Gaëtan
Serie - gastrol
2001
Stille Waters
Robert
Onbekend
2001
Flikken
Wouter
Serie - gastrol
2001
Veel geluk, professor
Xavier
Serie - hoofdrol
2001
Recht op recht
Bob
Serie - gastrol
1997 - 1998
Heterdaad
Gino Capelle
Serie - hoofdrol
1991 - 1999
Familie
Guido Van den Bossche
Soap - hoofdrol

1991
De bossen van Vlaanderen
Valère
onbekend
1989
Postbus X
Stafke
Serie - gastrol
1985
Merlina
Regis
Serie - gastrol
Ad blocker interference detected!
Wikia is a free-to-use site that makes money from advertising. We have a modified experience for viewers using ad blockers

Wikia is not accessible if you've made further modifications. Remove the custom ad blocker rule(s) and the page will load as expected.