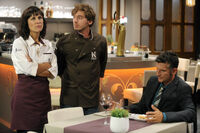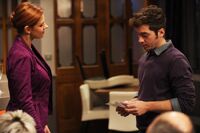 De KomEet (oktober 2011 - maart 2013) was een restaurant dat eigendom was van de VDB Holding en zich op de benedenverdieping van het kantoorgebouw bevond. Het werd uitgebaat door Maarten Van den Bossche en zijn vriendin Roos Sterckx. Enkele weken na opening kwam ook Jana Pleysier het team versterken als maître, omdat Roos te weinig ervaring had. Het restaurant had aanvankelijk niet veel succes, omdat Maarten zijn prijzen te hoog waren. Na enkele aanpassingen had het restaurant een vaste klantenbasis. 
Maarten werd eventjes als kok vervangen door Guy Rogiers, omdat hij door een armbreuk buiten strijd was. Uiteindelijk lichtte Guy zijn collega's op door een dure wijnvoorraad te stelen. Wanneer Jana haar ontslag geeft, krijgen Maarten en Roos versterking van jobstudent Pieter-Jan. 
Wanneer het slecht gaat met de VDB Holding, wil CEO Veronique Van den Bossche het restaurant ombouwen tot een bio-foodbar, om zo op termijn een keten te kunnen uitbouwen. Ze geeft Maarten de kans om mee in het project te stappen, maar hij weigert. Na de sluiting van het restaurant vertrekken Maarten en Roos op wereldreis.
Personeelsleden bij einde
Vorige Personeelsleden
Foto's
Ad blocker interference detected!
Wikia is a free-to-use site that makes money from advertising. We have a modified experience for viewers using ad blockers

Wikia is not accessible if you've made further modifications. Remove the custom ad blocker rule(s) and the page will load as expected.