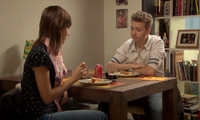 Aan de start van het 21ste seizoen gaat
Hannah
studeren aan de Modeacademie van Antwerpen. Omdat ze niet wil pendelen, gaat ze op kot in Antwerpen en ook
Remko
blijft geregeld bij haar logeren. Ze komt echter geregeld terug naar huis, vooral om haar
papa
te helpen na zijn ongeval. Het kot kwam slechts enkele keren in beeld, en verdween wanneer Hannah na een jaartje haar studies opzegt om met Remko naar Amerika te verhuizen.
Eindbewoners
Ad blocker interference detected!
Wikia is a free-to-use site that makes money from advertising. We have a modified experience for viewers using ad blockers

Wikia is not accessible if you've made further modifications. Remove the custom ad blocker rule(s) and the page will load as expected.