Seizoen 16 - 17
Maarten Van den Bossche en Evy Hermans leren elkaar kennen in oktober 2006, tijdens het zestiende seizoen. Maarten had toen nog een relatie met de verlegen Annick maar wanneer hij Evy beter leert kennen, wordt hij halsoverkop verliefd op haar.
De twee starten stiekem een relatie en proberen dit verborgen te houden voor Annick. Ze komt het toch te weten en dat zorgt voor een breuk tussen Maarten en Annick waardoor Maarten en Evy nu een echt koppel kunnen vormen. 
Maarten was altijd een grote steun voor Evy tijdens moeilijke periodes. Hij hielp haar mee in de zoektocht naar haar echte vader en bovendien waakte hij in het ziekenhuis over Evy wanneer ze geopereerd moest worden aan haar hart.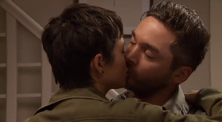 Tijdens het
zeventiende seizoen
echter liep de relatie stuk. Na de operatie van Evy was er veel veranderd tussen het koppel, vooral op seksueel vlak. Bovendien wordt Evy verliefd op
Pierrot Van den Bossche
en bedriegt ze al snel Maarten met hem. Hun relatie liep ten einde maar de twee blijven daarna toch nog goede vrienden. 
Seizoen 24
Maarten en Evy groeien opnieuw dichter naar elkaar toe wanneer ze zich samen op een undercoveropdracht van Maarten smijten. Evy krijgt terug gevoelens voor Maarten, maar heeft twijfels omdat ze vreest dat Maarten nog niet klaar is voor een nieuwe relatie na de dood van Roos. Uiteindelijk komt het tot een kus en loopt Evy op wolkjes. Maarten krijgt al snel spijt van de kus en probeert Evy op een rustige manier uit te leggen dat hij er nog niet klaar voor is. 
Ad blocker interference detected!
Wikia is a free-to-use site that makes money from advertising. We have a modified experience for viewers using ad blockers

Wikia is not accessible if you've made further modifications. Remove the custom ad blocker rule(s) and the page will load as expected.